Words of St. Julie – week beginning 20th January, 2020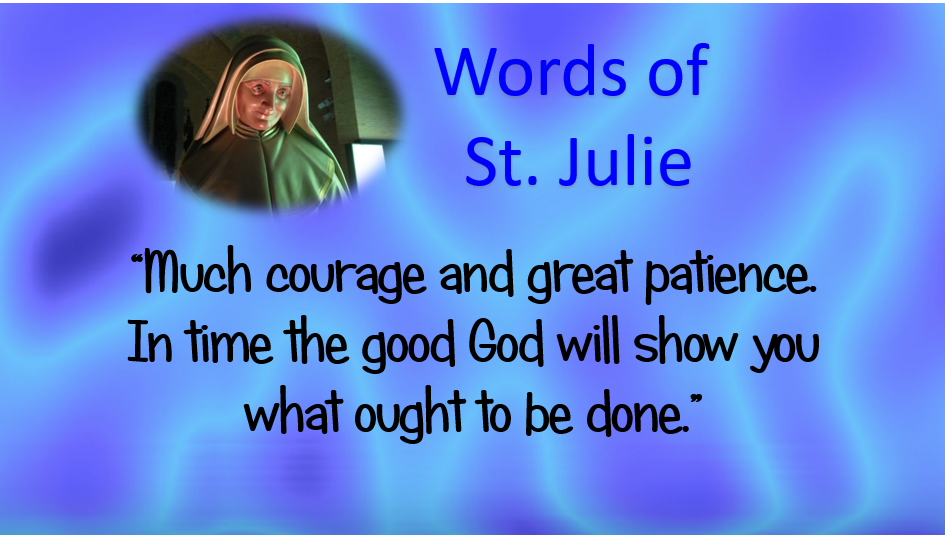 Once again, Julie talks about having courage! However, we often think about courage as being something which is shown in a moment of crisis – and that moment is soon to be over.
But St. Julie recognises that courage is not exclusively associated with those heroic moments! Courage is also something that needs to be sustained and that we need to show patience in the struggle.
She seems to be encouraging us to realise that God will show us what we need to do in our lives but that, sometimes, that guidance doesn't come immediately!
So, if you're having a tough time – keep fighting the good fight. Show courage and be persistent in it. Maybe spend some time asking God to help you see the way out of the situation. Perhaps the answer will come when you're not expecting it!
Loving God, we thank for the timeless words of St. Julie.

Help us to be patient in dealing with difficult situations, confident that you walk with us and and want to guide us through troubling times.

We pray this in the name of the Father, and of the Son and of the Holy Spirit. AMEN