18.10.19 – Row-a-Thon @ Coast
It was a pretty special day today. It goes back to a few weeks ago when I was in Coast in Woolton Village – just love their Flat White! As I was waiting, a couple of members of staff were chatting about having been to the gym and the banter continued about how when they had 'the Row-A-Thon' that one particular member of staff was going to outdo the other.
The Row-A-Thon in question was advertised on a poster by the counter and I enquired about it thinking it might be fun to be involved in something in the village (plus an excuse to get another Flat White.) As it happened, this event was to be an awareness raising event in support of Coast employee Liz Dennett. Liz was there and I got chatting to her.
Liz is currently living with Parkinson's but has taken on the challenge to row the Atlantic Ocean – departing on 4th January, 2020.  The journey is scheduled to take 45 days and is being undertaken with no support vessel. As well as an amazing test of endurance, the "Brain Waves" challenge will also provide invaluable research data on Parkinson's Disease and PTSD for Oxford Brookes University.
I was blown away by Liz's commitment and determination to live well with Parkinson's so promised to bring some students down to take part and booked 2 rowing machines for 4 sessions. Well, having promised, I needed to deliver and, when I asked some of our wonderful 6th Formers, they rose to the challenge and what a great morning we had!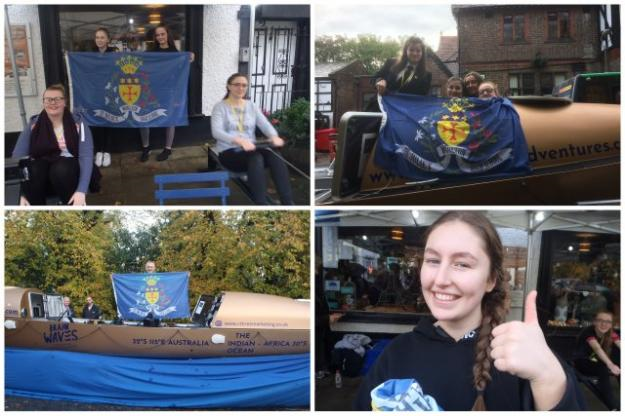 The "Brain Waves" boat was parked up in Woolton and our students, who all gave up their own time to participate, had the chance to climb aboard as well as row on the rowing machines outside Coast.  Huge thanks to Ellie (who did a double stint), Speranza, Hannah, Izzy, Emily, Millie Jo, Anna, Amy, Lucy, Eloise, the other Izzy, Annalise and Natasha! Mrs McCourt also came along.
It was an absolute joy and pleasure to meet Liz and support her in this wonderful adventure.  By the wonders of modern technology, we hope to be able to actually talk with Liz and the other three crew members at some point on their journey. Liz also offered to come into school so I'll try and arrange that. Maybe we should give her a rousing chorus of My Lighthouse to encourage her on the way!